What To Do With All Those Beans!
How to Keep Calm and Cook On during a pandemic...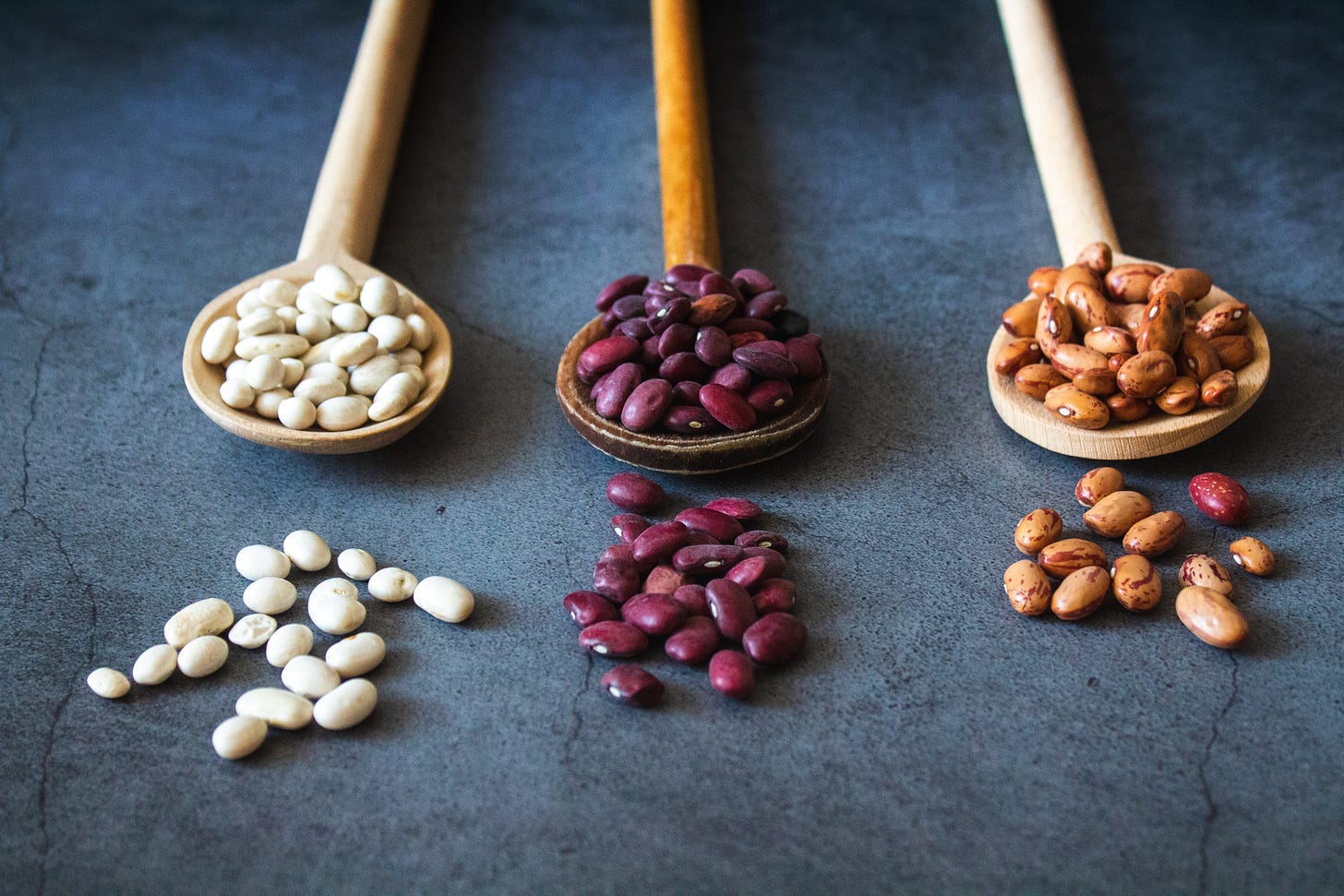 I'd taken out one of my ubiquitous containers of beans from the freezer and had made myself a rather lovely lunch (whole wheat tortillas, my favorite Cuban-style black beans, some tomatillos salsa, and some fresh spinach). Sitting down to eat, I was scrolling through my social media and saw a lot of my friends had posted jokes about what they were going to do with all the beans they'd bought to ride out this pandemic.
For someone who always has at least five bean dishes in rotation in her freezer, I'm here to help.
First of all, if you bought dried black beans, here's the most delicious Cuban-style black bean dish. I make this, freeze it in batches, and make it again the second after I finish the last batch. It's that good.
The original recipe comes from one of my favorite cookbooks, Memories of a Cuban Kitchen, by Mary Urrutia Randelman and Joan Schwartz, but over the years I've modified it every which way depending on what I had on hand.
For Cuban-Style Black Beans
Start by soaking one pound of dried black beans overnight. Don't forget to SALT THE WATER. Salting my soaking water has forever changed my life, and I have Samin Nosrat to thank for that. Her book Salt Fat Acid Heat assured me that I should salt my beans as they soak, despite any old wives tales I'd heard about it messing with how beans cook. So I salted them (you want to use enough so that you can taste it in the water but it's not as strong, say, as the ocean) and I've never looked back. The beans had SO much more flavor with the brining. Just remember that some salts are saltier than others, so taste rather than measure.
The next morning, I drain and rinse the beans and throw them in a pot with enough water to cover them by about about a bit under 2 inches. I add another *small* amount of salt, here. You always want to be careful adding salt to things that cook down, as what seems fine when it's got a lot of liquid will be too salty once the liquid's evaporated.
Into the pot I also chuck a roughly chopped (it sorta melts so I mean rough) green pepper OR red bell pepper. The original recipe calls for green but I prefer red. Then throw in a couple of bay leaves and let the whole thing simmer, uncovered, until the beans are tender.
So, for the beans: One pound beans, a little salt, green or red bell pepper, and a couple of bay leaves.
While the beans are doing their initial simmer, make your sofrito.
It calls for a shit ton of good olive oil. Don't skimp! The oil makes this dish sweet and unctuous. Heat up 2/3rds of a cup of olive oil. Once the oil smells like it's ready, add a large onion, chopped, a green or red bell pepper, chopped, and 4 cloves of garlic, chopped. Or seventeen. These beans can take some garlic.
At this stage, if I don't have fresh chilis or spicy pepper, I also add red pepper flakes, as much as you can handle.
You wanna cook down that sofrito for about 8 minutes, until the onions are transparent but not browned. Once it's softened, add 3 teaspons of ground cumin and 2 tablespoons of sherry vinegar, if you can find it, or cider vinegar, if you can't. Again, don't skip the vinegar, even if you think it's weird to put in beans. It does something alchemical to the dish, making it creamier. If you do have fresh green chile or Rocatillo pepper, add that to taste at this stage in lieu of the red pepper flakes.
Mix that all together and dump it in the beans. Stir everything up and smack a lid on the pot. Let it simmer on low heat, for another 30-40 minutes. I usually eyeball my beans about 20 minutes before they're supposed to be done to make sure I don't wanna leave the pot off a bit to simmer some water out or if I have to add a bit more. When they're totally cooked through and they're the consistency you want them, take them off the heat and add salt and pepper, to taste.
Pro tip: IF YOU CAN RESIST THEM, leave them in the pot in the fridge overnight so all the flavors marry.
Eat them in a bowl with rice and avocado, or whip up a batch of picadillo to go full Cuban. Eat them on tacos, or as a side dish for grilled pork or beef. They are also delicious as a bed for salmon broiled with a little salt and pepper, cumin, and lime. Garnish with cilantro and lime wedges and dig in. I also love to make a cheese quesadilla and dump the beans on top with sour cream and salsa, when I need some comfort food.
But what if you didn't buy dried black beans?
I make this Beans and Greens recipe from Mark Bittman all the time. It's great because you can substitute different greens, different beans, and add whatever to the pot.
And if you bought canned white beans, I also live on a "sausage stew" I make that's never the same twice, even though it alway's called "sausage stew." I quickly brown on high heat whatever sausage I want to use (or that's been lurking in my freezer), and take them out of the pan. Then I add a bit more olive oil and soften onion and whatever other veggies I need to use up. Celery, carrot, and parsnip are all some of my favorites, but I've done bell pepper and broccoli because it was there and starting to wilt. Then I sort of take stock of what I have on hand. I definitely want either a little stock or water, enough to simmer everything in but not enough to make it soup. But depending on whatever flavor profile I can see cobbled together with what I have, I might use some oregano, garlic, and a can of chopped tomato and/or Ro-Tel. Maybe some white wine and herbs de provence, and even a touch of cream at the end to finish. I throw the sausages back in and let everything simmer till the sausage is cooked through and all the vegetables are to my liking. Finally, I always chuck in some spinach (I always have spinach) or I sauté some kale separately and chuck that in, if I want tbat. The point is you can use anything. Add salt and pepper, and chow down. Crusty bread usually goes well with this one, too.
If you bought kidney beans (canned or dried), make red beans and rice (use this recipe) or chili. If you have a great chili recipe, btw, I'm still on the lookout, so share!
And those are some bean ideas! Hopefully, if you're new to beans, you learn to love them. They are so cheap and there are so many amazing things you can do with them. They're especially great for batch cooking as they make so much, and they freeze beautifully.
As always, if you enjoyed this, please share!
Or sign up for this newsletter and receive a FREE goal setting journal prompt!